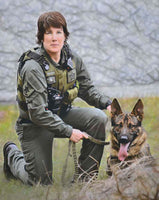 We're here for the K9 officers who are here for you.
K9s United is committed to supporting and honoring K9 law enforcement officers who detect, protect and serve our communities by giving them the best equipment, amenities, and quality of life during and after their service, and memorializing those who give the ultimate sacrifice.
Due to budgetary constraints, many law enforcement agencies don't have the funding to provide the K9 Units the resources they need. It is not only vital that K9s receive the proper training, equipment, and care to do the best possible job, but they deserve it. With our vision to support, honor, strengthen, and provide, K9s United will continue until every law enforcement K9 in need is served.